Jeans with frontal frisco pockets
Chiara Dalba cropped jeans with frontal frisco pockets
are the must-have item not to go unnoticed.
The frisco pocket on the front is a trend-setting detail and the cropped cut of the jeans makes it even more unique.
Jeans are extremely versatile and it is possible to create many looks in every season. It can be combined in a casual way but can also be the basis for a more sophisticated look. It will always be that lively note that enhances everything.
The cut of the jeans makes it perfect for every body shape and this is the reason why the brand offers it in all sizes. The cotton makes it comfortable and pleasant.
Fit and composition jeans with frontal frisco pockets
The jeans with frisco pockets on the front have a regular fit and a cropped cut.
Available in the catalogue from size 40 to size 50.
Composition: 90,1% Cotton 8,6% Polyester 1,3% Elastam.
How to take measurements:
AB - Waist
Measure your waist placing the tape around your navel.
CD - Hips
Measure your hips placing the tape around the widest point.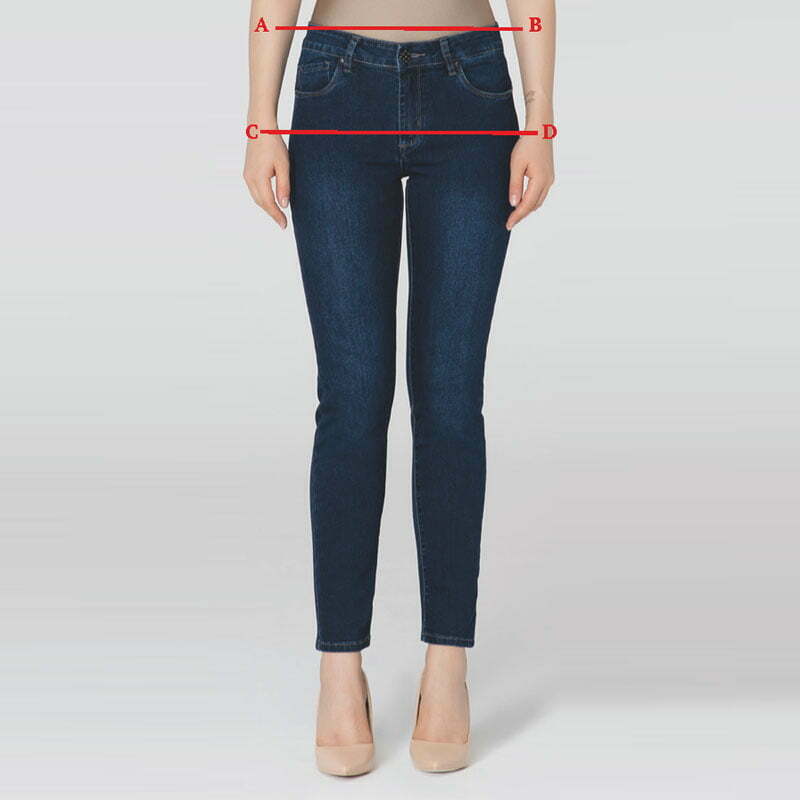 | | | | | |
| --- | --- | --- | --- | --- |
| Size | UK | US | EU | Japan |
| XS | 6 - 8 | 4 | 34 | 7 |
| S | 8 -10 | 6 | 36 | 9 |
| M | 10 - 12 | 8 | 38 | 11 |
| L | 12 - 14 | 10 | 40 | 13 |
| XL | 14 - 16 | 12 | 42 | 15 |
| XXL | 16 - 28 | 14 | 44 | 17 |
| | | | | |
| --- | --- | --- | --- | --- |
| Size | UK | US | EU | Japan |
| XS | 6 - 8 | 4 | 34 | 7 |
| S | 8 -10 | 6 | 36 | 9 |
| M | 10 - 12 | 8 | 38 | 11 |
| L | 12 - 14 | 10 | 40 | 13 |
| XL | 14 - 16 | 12 | 42 | 15 |
| XXL | 16 - 28 | 14 | 44 | 17 |