Jeans with elastic band at the back
Il
jeans con elastico posteriore, tasche America e tasche a friso posteriori Chiara Dalba
è tra i modelli più comodi e versatili del brand.
Quello che conquista è la linea di questo jeans, perfettamente dritta e avvolgente.
Il capo è ideale per qualsiasi tipo di abbinamento e la praticità dell'elastico posteriore lo rende così comodo da poter essere indossato tutto il giorno. Il morbido cotone accentua questa sensazione: nessuno vorrà toglierlo a fine giornata perché sarà come una seconda pelle.
Le tasche America sono un grande classico dei jeans di qualità e le tasche a friso posteriori non aggiungono centimetri ma esaltano la zona. Non si può resistere al fascino di questo jeans.
Vestibilità e composizione del jeans con elastico posteriore
Il jeans ha un'ottima vestibilità regular ed è disponibile in diverse taglie.
In catalogo si trova dalla taglia 40 alla taglia 52.
La modella è alta 180 cm e indossa una taglia 40.
Composizione: 94,2% Cotton 4,5% Polyester 1,3% Elastam.
How to take measurements:
AB - Waist
Measure your waist placing the tape around your navel.
CD - Hips
Measure your hips placing the tape around the widest point.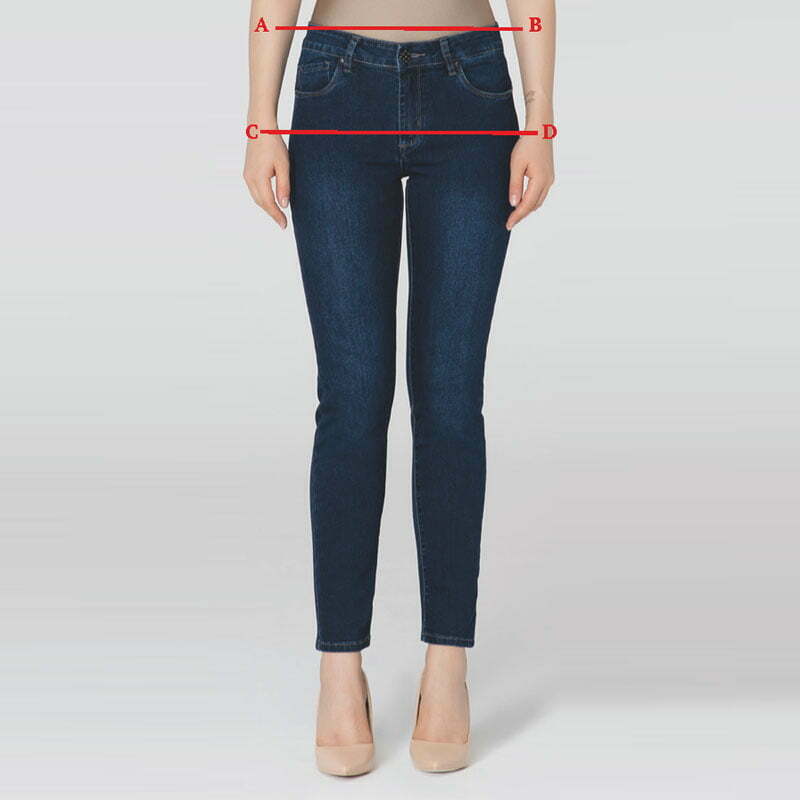 | | | | | |
| --- | --- | --- | --- | --- |
| Size | UK | US | EU | Japan |
| XS | 6 - 8 | 4 | 34 | 7 |
| S | 8 -10 | 6 | 36 | 9 |
| M | 10 - 12 | 8 | 38 | 11 |
| L | 12 - 14 | 10 | 40 | 13 |
| XL | 14 - 16 | 12 | 42 | 15 |
| XXL | 16 - 28 | 14 | 44 | 17 |
| | | | | |
| --- | --- | --- | --- | --- |
| Size | UK | US | EU | Japan |
| XS | 6 - 8 | 4 | 34 | 7 |
| S | 8 -10 | 6 | 36 | 9 |
| M | 10 - 12 | 8 | 38 | 11 |
| L | 12 - 14 | 10 | 40 | 13 |
| XL | 14 - 16 | 12 | 42 | 15 |
| XXL | 16 - 28 | 14 | 44 | 17 |