Three-colour short jacket
with zip and frog fastener
Chiara Dalba three-colour short jacket with zip and frog fastener
is so trendy that it is impossible not to have it.
Many colour combinations and a truly unique look. The long central zip makes it practical and comfortable to wear, while the frog fastener gives it that extra touch that makes the garment fashionable.
Designed for the cold season, this garment is perfect for colder days but also for rainy and windy ones.
The materials from which the jacket is made are of high quality and make the garment space-saving yet warm and durable.
Fit and composition three-colour short jacket with zip and frog fastener
The three-colour sho jacket fits well and does not clutter.
Available in the catalogue in the colour combinations ice/bronze/green and rouge/orange/blue.
Available in sizes S to XL. Suitable for all physical types.
Outer composition: Fabric 100% Polyamide
Lining composition: 100% Polyester
Filling composition: 100% Polyester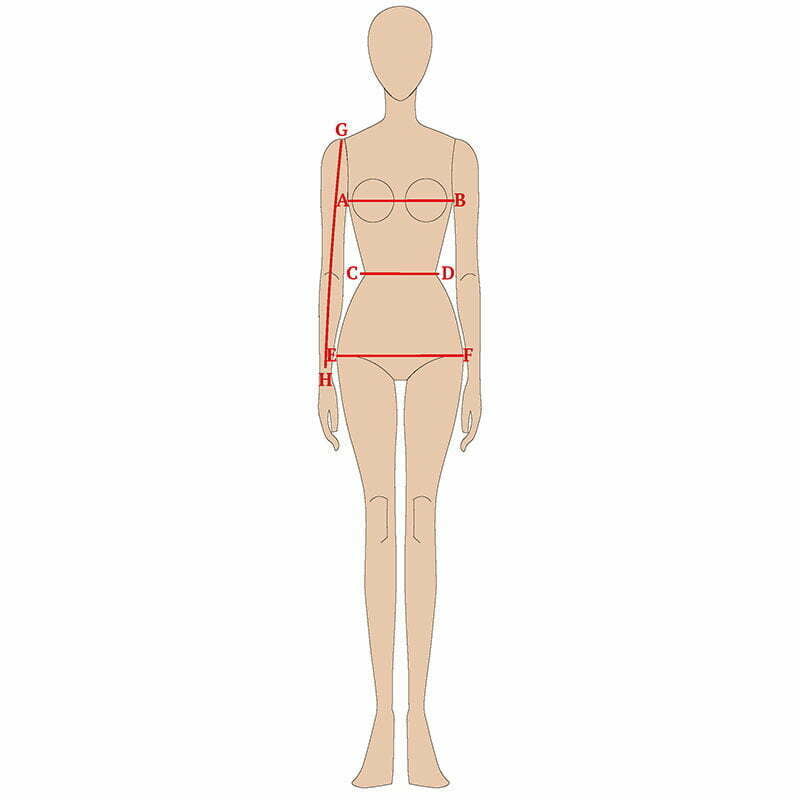 How to take measurements:
AB - Bust
Place the measuring tape under your armpits to measure your bust.
CD - Waist
Place the measuring tape around your navel to measure your waist.
EF - Hips
Place the measuring tape around the widest point of your hips.
GH - Sleeve length
Measure your sleeve length positioning the measuring tape at the most prominent point of your shoulder up to your wrist.
| | | | | |
| --- | --- | --- | --- | --- |
| Size | UK | US | EU | Japan |
| XS | 6 - 8 | 4 | 34 | 7 |
| S | 8 -10 | 6 | 36 | 9 |
| M | 10 - 12 | 8 | 38 | 11 |
| L | 12 - 14 | 10 | 40 | 13 |
| XL | 14 - 16 | 12 | 42 | 15 |
| XXL | 16 - 28 | 14 | 44 | 17 |
| | | | | |
| --- | --- | --- | --- | --- |
| Size | UK | US | EU | Japan |
| XS | 6 - 8 | 4 | 34 | 7 |
| S | 8 -10 | 6 | 36 | 9 |
| M | 10 - 12 | 8 | 38 | 11 |
| L | 12 - 14 | 10 | 40 | 13 |
| XL | 14 - 16 | 12 | 42 | 15 |
| XXL | 16 - 28 | 14 | 44 | 17 |