Short hooded jacket
with printed lining
Chiara Dalba short hooded jacket with printed lining
is already a must-have for the season.
Disponibile in due colori moda è il capospalla perfetto per combattere il freddo inverno con stile.
The large, cosy hood is ideal for rain and wind. The large side pockets are comfortable and modern. The printed inner lining adds a bit of flair and colours even the darkest, rainiest days.
The short jacket with printed lining is perfect for creating trendy, colourful and playful outfits.
Everything you want in a single jacket, available in different sizes and suitable for all body shapes.
Fit and composition short hooded jacket with printed lining
The short hooded jacket with printed lining is made of the best materials, which means it has a good fit but is not bulky.
Available in the catalogue from size S to size XL.
Available in lime and powder colours. The lining is printed with various patterns.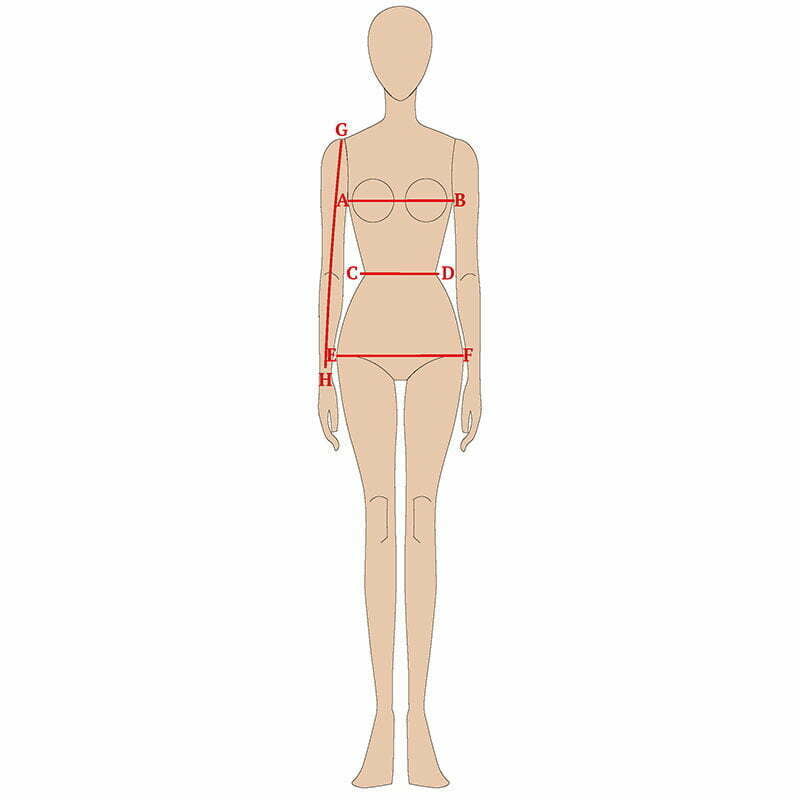 How to take measurements:
AB - Bust
Place the measuring tape under your armpits to measure your bust.
CD - Waist
Place the measuring tape around your navel to measure your waist.
EF - Hips
Place the measuring tape around the widest point of your hips.
GH - Sleeve length
Measure your sleeve length positioning the measuring tape at the most prominent point of your shoulder up to your wrist.
| | | | | |
| --- | --- | --- | --- | --- |
| Size | UK | US | EU | Japan |
| XS | 6 - 8 | 4 | 34 | 7 |
| S | 8 -10 | 6 | 36 | 9 |
| M | 10 - 12 | 8 | 38 | 11 |
| L | 12 - 14 | 10 | 40 | 13 |
| XL | 14 - 16 | 12 | 42 | 15 |
| XXL | 16 - 28 | 14 | 44 | 17 |
| | | | | |
| --- | --- | --- | --- | --- |
| Size | UK | US | EU | Japan |
| XS | 6 - 8 | 4 | 34 | 7 |
| S | 8 -10 | 6 | 36 | 9 |
| M | 10 - 12 | 8 | 38 | 11 |
| L | 12 - 14 | 10 | 40 | 13 |
| XL | 14 - 16 | 12 | 42 | 15 |
| XXL | 16 - 28 | 14 | 44 | 17 |