Push-up jeans
with strass bottom
Il
jeans push up con fondo strass Chiara Dalba
è uno dei modelli più richiesti del momento.
Perfetto per outfit di tendenza, questo jeans si fa riconoscere per i dettagli e per la comodità. Il fondo lavorato con strass rende il capo perfetto per outfit più eleganti e trendy.
Quando guardate un jeans pensate solo al tempo libero? Con questo modello via libera al denim anche nelle occasioni più glamour.
L'effetto push up del jeans modella la figura e la rende più armoniosa. Il capo è disponibile in tutte le taglie e ben si adatta a ogni fisicità.
Impossibile non averlo nel proprio armadio. Un vero e proprio passe partout per creare look sofisticati anche con un capo semplice come un jeans.
Vestibilità e composizione jeans push up con fondo strass
Il jeans push up con fondo strass ha una vestibilità skinny e un effetto push up che modella e sostiene.
Disponibile in catalogo dalla taglia 40 alla taglia 50.
La modella è alta 180 cm e indossa una taglia 40.
Disponibile nella colorazione jeans nero.
How to take measurements:
AB - Waist
Measure your waist placing the tape around your navel.
CD - Hips
Measure your hips placing the tape around the widest point.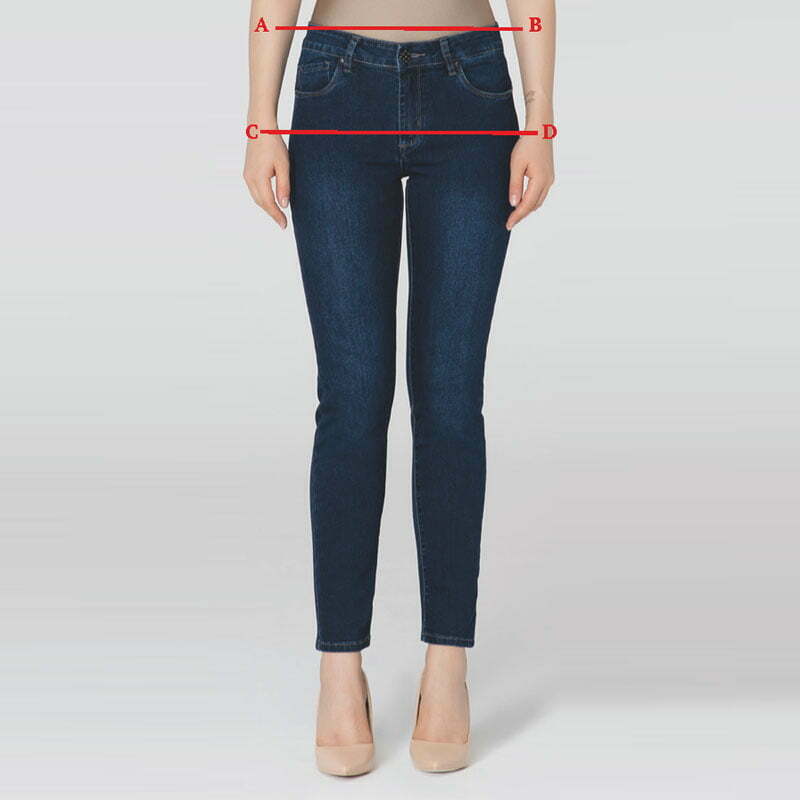 | | | | | |
| --- | --- | --- | --- | --- |
| Size | UK | US | EU | Japan |
| XS | 6 - 8 | 4 | 34 | 7 |
| S | 8 -10 | 6 | 36 | 9 |
| M | 10 - 12 | 8 | 38 | 11 |
| L | 12 - 14 | 10 | 40 | 13 |
| XL | 14 - 16 | 12 | 42 | 15 |
| XXL | 16 - 28 | 14 | 44 | 17 |
| | | | | |
| --- | --- | --- | --- | --- |
| Size | UK | US | EU | Japan |
| XS | 6 - 8 | 4 | 34 | 7 |
| S | 8 -10 | 6 | 36 | 9 |
| M | 10 - 12 | 8 | 38 | 11 |
| L | 12 - 14 | 10 | 40 | 13 |
| XL | 14 - 16 | 12 | 42 | 15 |
| XXL | 16 - 28 | 14 | 44 | 17 |