Push-up jeans
con fondo strass
<strong>Chiara Dalba push-up jeans with strass bottom</strong> are one of the most popular models of the moment.
Perfect for trendy outfits, the jeans stand out for its <strong>details</strong> and <strong>comfort</strong>. The <strong>worked bottom with strass</strong> makes the garment perfect for more elegant and trendy outfits.
When you look at a pair of jeans, do you only think about free time? With this model, go for denim even on the most glamorous occasions.
The <strong>push-up effect of the jeans</strong> shapes the figure and makes it more harmonic. The garment is <strong>available in all sizes</strong> and suits all body shapes.
Impossible not to have it in your wardrobe. A real passe partout for creating sophisticated looks even with a simple item like jeans.
<h2>Fit and composition push-up jeans with strass bottom</h2>
The push-up jeans with strass bottom have a <strong>skinny fit</strong> and a <strong>push-up effect</strong> that shapes and supports.
Available in the catalogue <strong>from size 40 to size 50</strong>.
The model is 180 cm tall and wears a <strong>size 40</strong>.
Available in <strong>black denim</strong>.
How to take measurements:
AB - Waist
Measure your waist placing the tape around your navel.
CD - Hips
Measure your hips placing the tape around the widest point.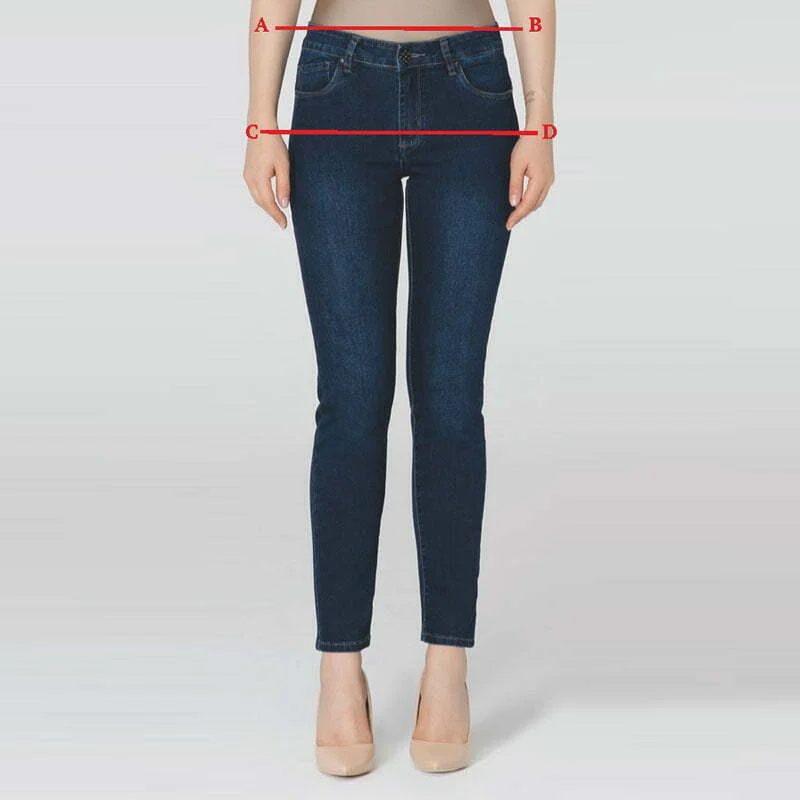 | | | | | |
| --- | --- | --- | --- | --- |
| Size | UK | US | EU | Japan |
| XS | 6 - 8 | 4 | 34 | 7 |
| S | 8 -10 | 6 | 36 | 9 |
| M | 10 - 12 | 8 | 38 | 11 |
| L | 12 - 14 | 10 | 40 | 13 |
| XL | 14 - 16 | 12 | 42 | 15 |
| XXL | 16 - 28 | 14 | 44 | 17 |
| | | | | |
| --- | --- | --- | --- | --- |
| Size | UK | US | EU | Japan |
| XS | 6 - 8 | 4 | 34 | 7 |
| S | 8 -10 | 6 | 36 | 9 |
| M | 10 - 12 | 8 | 38 | 11 |
| L | 12 - 14 | 10 | 40 | 13 |
| XL | 14 - 16 | 12 | 42 | 15 |
| XXL | 16 - 28 | 14 | 44 | 17 |