Double-face jacket
patterned and black
Chiara Dalba patterned and black double-face jacket
has a high collar and a front zip closure that make it warm, comfortable and trendy.
The special feature of this garment is to combine a patterned fabric and a plain fabric so that you have two outerwear items in one. A comfort that is difficult to give up if you like to match the jacket to the occasion and to the outfit worn.
Simply flip the jacket over and you have a new one to show off on those occasions when black is a must or is more appropriate. One jacket for the day and one for the evening but buying only one product.
The short double-face jacket is made of the best materials and is warm and comfortable. Ideal for the city, travelling and for all formal and informal occasions.
Fit of the patterned and black double-face jacket
The double-face patterned and black jacket has a comfortable fit, perfect even for the colder seasons.
It is available from size S to size XXL.
It is available in patterned and black version.
Inner fabric composition: 100% Polyester.
Outer fabric composition: 100% Polyester.
Linen composition: 100% Polyester.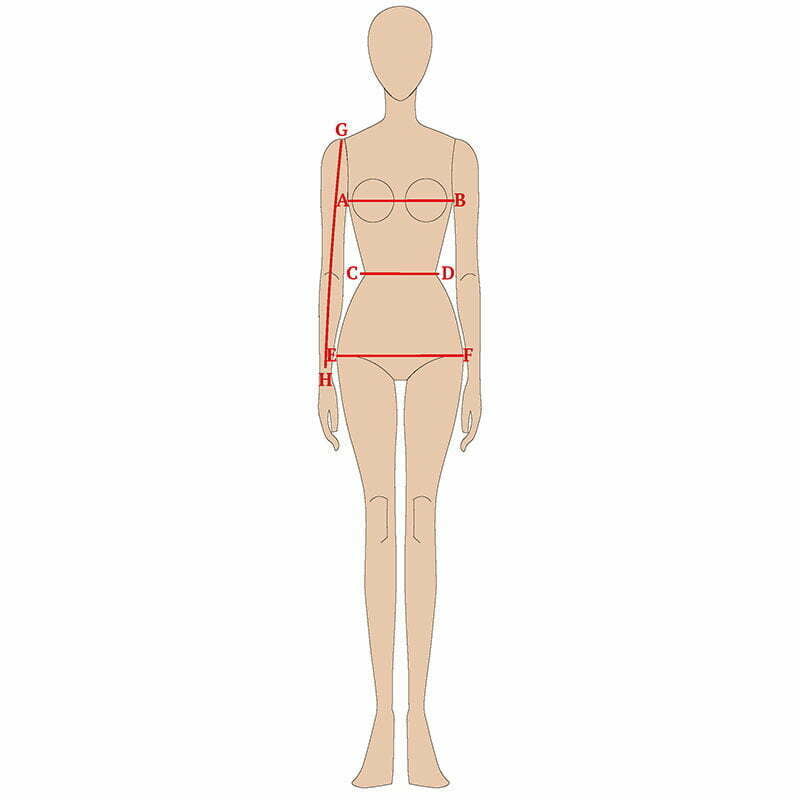 How to take measurements:
AB - Bust
Place the measuring tape under your armpits to measure your bust.
CD - Waist
Place the measuring tape around your navel to measure your waist.
EF - Hips
Place the measuring tape around the widest point of your hips.
GH - Sleeve length
Measure your sleeve length positioning the measuring tape at the most prominent point of your shoulder up to your wrist.
| | | | | |
| --- | --- | --- | --- | --- |
| Size | UK | US | EU | Japan |
| XS | 6 - 8 | 4 | 34 | 7 |
| S | 8 -10 | 6 | 36 | 9 |
| M | 10 - 12 | 8 | 38 | 11 |
| L | 12 - 14 | 10 | 40 | 13 |
| XL | 14 - 16 | 12 | 42 | 15 |
| XXL | 16 - 28 | 14 | 44 | 17 |
| | | | | |
| --- | --- | --- | --- | --- |
| Size | UK | US | EU | Japan |
| XS | 6 - 8 | 4 | 34 | 7 |
| S | 8 -10 | 6 | 36 | 9 |
| M | 10 - 12 | 8 | 38 | 11 |
| L | 12 - 14 | 10 | 40 | 13 |
| XL | 14 - 16 | 12 | 42 | 15 |
| XXL | 16 - 28 | 14 | 44 | 17 |