Milano stitch trousers
with hip closure
Il
pantalone in punto Milano con chiusura sul fianco Chiara Dalba
è uno di quei capi chiave che non dovrebbero mai mancare nell'armadio.
La chiusura sul fianco è invisibile. Sul retro non ci sono tasche e questo rende il modello molto aderente ma allo stesso tempo confortevole.
Pensato per esaltare il corpo femminile e disponibile fino alla taglia 50 il capo esalta le forme e veste tutte le donne e tutte le fisicità.
La fantasia di tendenza lo rende perfetto per essere indossato in tanti modi differenti, dai più casual ai più eleganti. Non si può resistere al fascino di avere questo pantalone in punto Milano nell'armadio.
Vestibilità e composizione del pantalone in punto Milano con chiusura sul fianco
Il pantalone in punto Milano skinny ha un'ottima vestibilità ed è disponibile dalla taglia 40 alla taglia 50. La variante di colore moro è attualmente presente in catalogo.
La modella è alta 180 cm e indossa una taglia 40.
Composizione: 50% Rayon 35% Nylon 10% Polyester 5% Elastam.
How to take measurements:
AB - Waist
Measure your waist placing the tape around your navel.
CD - Hips
Measure your hips placing the tape around the widest point.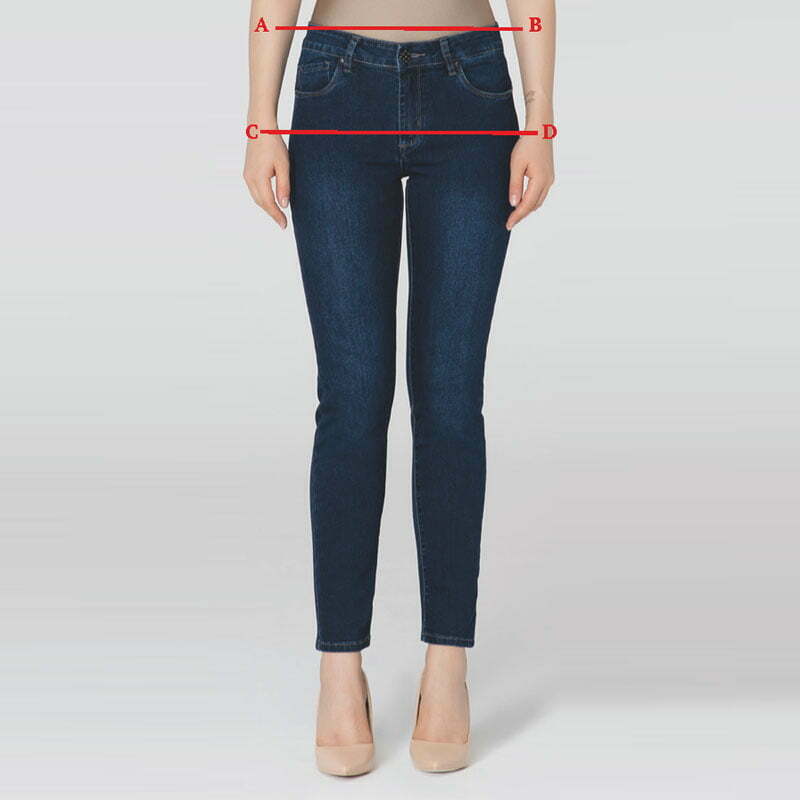 | | | | | |
| --- | --- | --- | --- | --- |
| Size | UK | US | EU | Japan |
| XS | 6 - 8 | 4 | 34 | 7 |
| S | 8 -10 | 6 | 36 | 9 |
| M | 10 - 12 | 8 | 38 | 11 |
| L | 12 - 14 | 10 | 40 | 13 |
| XL | 14 - 16 | 12 | 42 | 15 |
| XXL | 16 - 28 | 14 | 44 | 17 |
| | | | | |
| --- | --- | --- | --- | --- |
| Size | UK | US | EU | Japan |
| XS | 6 - 8 | 4 | 34 | 7 |
| S | 8 -10 | 6 | 36 | 9 |
| M | 10 - 12 | 8 | 38 | 11 |
| L | 12 - 14 | 10 | 40 | 13 |
| XL | 14 - 16 | 12 | 42 | 15 |
| XXL | 16 - 28 | 14 | 44 | 17 |