Jeans chinos
con tasche America
Il
jeans chinos con tasche America e tasca posteriore a friso Chiara Dalba
è il modello giusto da avere in armadio.
Un capo che sa essere al tempo stesso sofisticato e versatile, ideale per ogni abbinamento di stili e indumenti. Questo jeans chinos riesce a esaltare la figura della donna che lo indossa ma senza per questo risultare scomodo o poco confortevole.
Le tasche America lo rendono un capo senza tempo, mentre il morbido cotone leggermente elastico con cui è realizzato va a sostenere la figura e accarezza le forme. Lo si può indossare in ogni occasione e si possono creare diversi look, uno più bello dell'altro per l'ufficio e il tempo libero.
Vestibilità e composizione del jeans chinos con tasche America
Il jeans chinos con tasche America ha un'ottima vestibilità. Il taglio dritto lo rende perfetto per ogni fisicità.
Il modello è disponibile nella versione jeans blu e nelle taglie dalla 40 alla 52.
La modella è alta 180 cm e indossa una taglia 40.
Composizione: 90,1% Cotton 8,6% Polyester 1,3% Elastam.
How to take measurements:
AB - Waist
Measure your waist placing the tape around your navel.
CD - Hips
Measure your hips placing the tape around the widest point.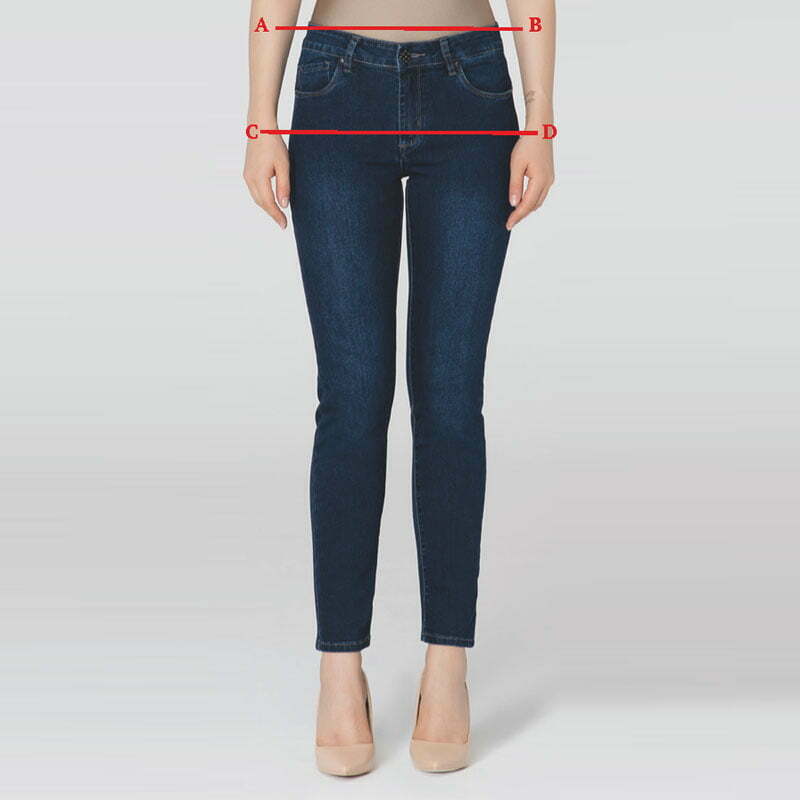 | | | | | |
| --- | --- | --- | --- | --- |
| Size | UK | US | EU | Japan |
| XS | 6 - 8 | 4 | 34 | 7 |
| S | 8 -10 | 6 | 36 | 9 |
| M | 10 - 12 | 8 | 38 | 11 |
| L | 12 - 14 | 10 | 40 | 13 |
| XL | 14 - 16 | 12 | 42 | 15 |
| XXL | 16 - 28 | 14 | 44 | 17 |
| | | | | |
| --- | --- | --- | --- | --- |
| Size | UK | US | EU | Japan |
| XS | 6 - 8 | 4 | 34 | 7 |
| S | 8 -10 | 6 | 36 | 9 |
| M | 10 - 12 | 8 | 38 | 11 |
| L | 12 - 14 | 10 | 40 | 13 |
| XL | 14 - 16 | 12 | 42 | 15 |
| XXL | 16 - 28 | 14 | 44 | 17 |