Capri jeans with turn-ups
and contrasting pockets
Il modello
jeans capri
con risvolto
e tasca a contrasto Chiara Dalba
è uno dei trend di stagione.
Acquistare questo jeans capri è la mossa giusta al momento giusto, perché il modello è estremamente versatile e molto trendy. La tasca posteriore realizzata con piccoli strass impreziosisce il jeans e fa sì che non passi inosservato.
Il lavaggio classico rende questo capo un evergreen che non passerà mai di moda, facilmente abbinabile e portabile in diverse occasioni.
Perfetto in ufficio, il jeans si adatta bene anche a una serata fuori: parola d'ordine osare con gli accostamenti ad altri capi.
Si tratta di un vero must have da avere, perfetto in ogni stagione e per tutte le fisicità.
Vestibilità e composizione jeans capri con risvolto e tasca a contrasto
Il jeans capri con risvolto e tasca a contrasto è disponibile dalla taglia 40 alla taglia 50 nella versione colore jeans blu.
La modella è alta 180 cm e indossa una taglia 40.
Composizione: 68% Cotton 30% Polyester 2% Elastam.
How to take measurements:
AB - Waist
Measure your waist placing the tape around your navel.
CD - Hips
Measure your hips placing the tape around the widest point.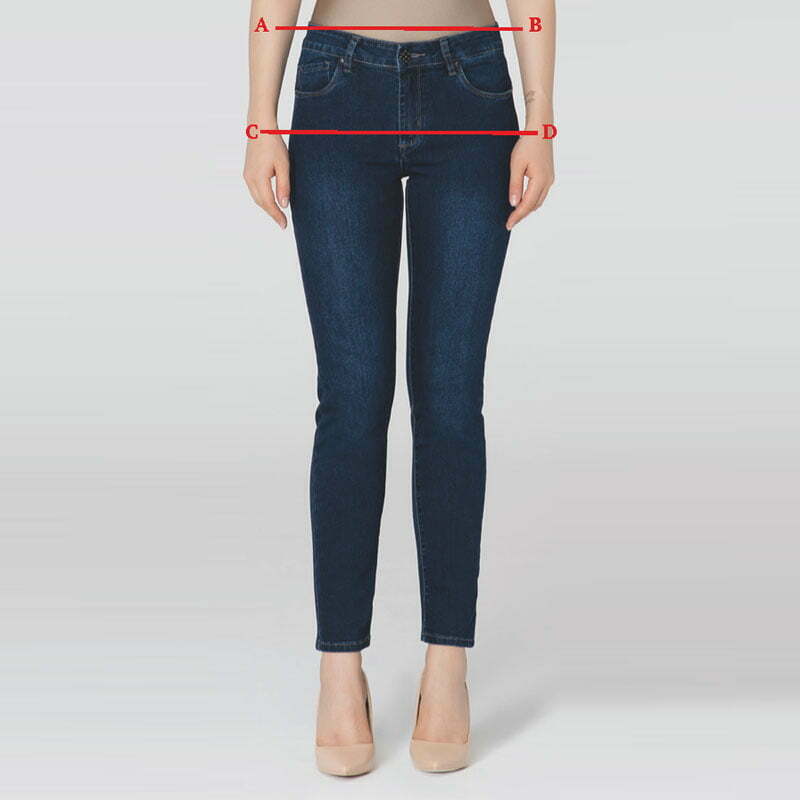 | | | | | |
| --- | --- | --- | --- | --- |
| Size | UK | US | EU | Japan |
| XS | 6 - 8 | 4 | 34 | 7 |
| S | 8 -10 | 6 | 36 | 9 |
| M | 10 - 12 | 8 | 38 | 11 |
| L | 12 - 14 | 10 | 40 | 13 |
| XL | 14 - 16 | 12 | 42 | 15 |
| XXL | 16 - 28 | 14 | 44 | 17 |
| | | | | |
| --- | --- | --- | --- | --- |
| Size | UK | US | EU | Japan |
| XS | 6 - 8 | 4 | 34 | 7 |
| S | 8 -10 | 6 | 36 | 9 |
| M | 10 - 12 | 8 | 38 | 11 |
| L | 12 - 14 | 10 | 40 | 13 |
| XL | 14 - 16 | 12 | 42 | 15 |
| XXL | 16 - 28 | 14 | 44 | 17 |