America pocket jeans and frisco
Il
jeans con tasca America e friso posteriore Chiara Dalba
è un modello classico che però strizza l'occhio alla moda e alle tendenze del momento.
Non si può resistere al fascino di questo jeans perché nella sua semplicità è estremamente versatile. Si tratta proprio di quel modello da avere in ogni occasione, in grado da solo di creare un look sofisticato se richiesto o più casual a seconda dei propri desideri.
Le tasche America conferiscono al jeans un sapore retrò che è sempre di gran moda, mentre il friso posteriore non aggiunge centimetri alla zona e rende il modello molto sofisticato.
Il taglio cropped, leggermente svasato in fondo, rende il jeans unico nel suo genere.
Il capo perfetto per chi vuole vedersi bella indossando un jeans senza tempo.
Vestibilità e composizione jeans con tasca America e friso posteriore
La vestibilità del jeans è ottimale. I materiali di qualità rendono il capo morbido e piacevole da indossare.
Disponibile in catalogo dalla taglia 40 alla taglia 50.
La modella è alta 180 cm e indossa una taglia 40.
Composizione: 90,1% Cotton 8,6% Polyester 1,3% Elastam.
How to take measurements:
AB - Waist
Measure your waist placing the tape around your navel.
CD - Hips
Measure your hips placing the tape around the widest point.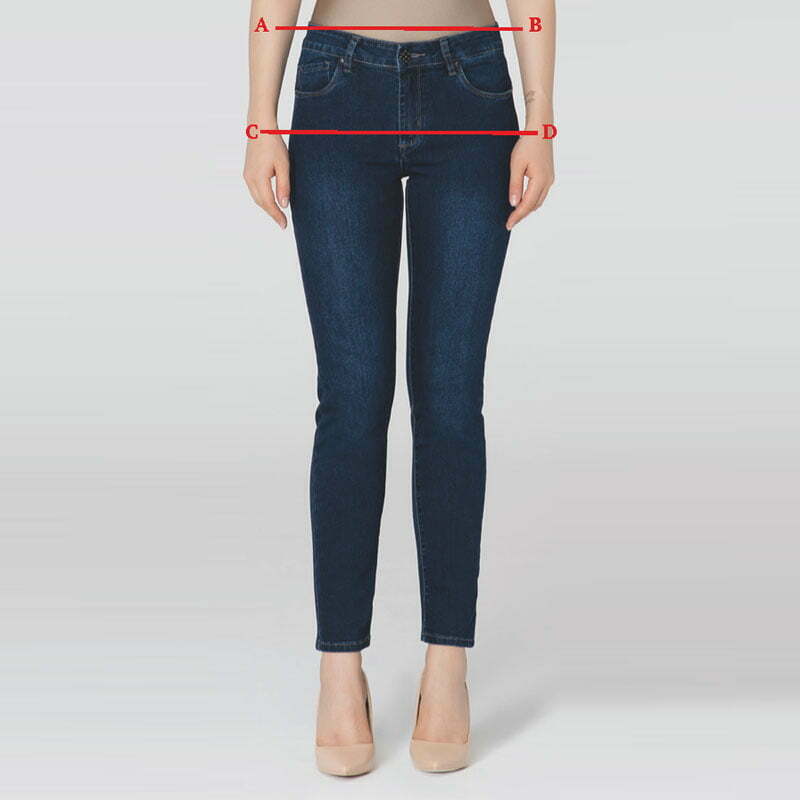 | | | | | |
| --- | --- | --- | --- | --- |
| Size | UK | US | EU | Japan |
| XS | 6 - 8 | 4 | 34 | 7 |
| S | 8 -10 | 6 | 36 | 9 |
| M | 10 - 12 | 8 | 38 | 11 |
| L | 12 - 14 | 10 | 40 | 13 |
| XL | 14 - 16 | 12 | 42 | 15 |
| XXL | 16 - 28 | 14 | 44 | 17 |
| | | | | |
| --- | --- | --- | --- | --- |
| Size | UK | US | EU | Japan |
| XS | 6 - 8 | 4 | 34 | 7 |
| S | 8 -10 | 6 | 36 | 9 |
| M | 10 - 12 | 8 | 38 | 11 |
| L | 12 - 14 | 10 | 40 | 13 |
| XL | 14 - 16 | 12 | 42 | 15 |
| XXL | 16 - 28 | 14 | 44 | 17 |