Trumpet jeans
5-pocket push-up
I
jeans a trombetta 5 tasche effetto push up con pinces Chiara Dalba
sono perfetti per chi ama avere sempre a disposizione un capo facilmente abbinabile ma anche di grande qualità.
Il modello a trombetta è un ottimo compromesso tra un jeans a zampa e un capo più skinny. Qui la gamba si allarga verso il fondo diventando leggermente svasata.
Un jeans particolare che è diventato di tendenza e che lo sarà ancora per molto. Questo jeans a trombetta 5 tasche è destinato a diventare un evergreen e l'effetto push up lo rende unico.
Un capo da avere che permette di creare tantissimi abbinamenti, grazie anche al lavaggio classico che rende il jeans più sofisticato.
C'è chi ama indossarlo nel tempo libero e chi anche per una cena o una serata fuori. Quello che conta è abbinarlo al meglio per avere un look sempre impeccabile.
Vestibilità e composizione jeans a trombetta 5 tasche effetto push up con pinces
Il jeans ha un'ottima vestibilità, grazie anche al morbido cotone leggermente stretch e a una vita regular che lo rende estremamente comodo.
Disponibile dalla taglia 40 alla taglia 50.
La modella è alta 180 cm e indoss una taglia 42.
Composizione: 98% Cotton 2% Elastam.
How to take measurements:
AB - Waist
Measure your waist placing the tape around your navel.
CD - Hips
Measure your hips placing the tape around the widest point.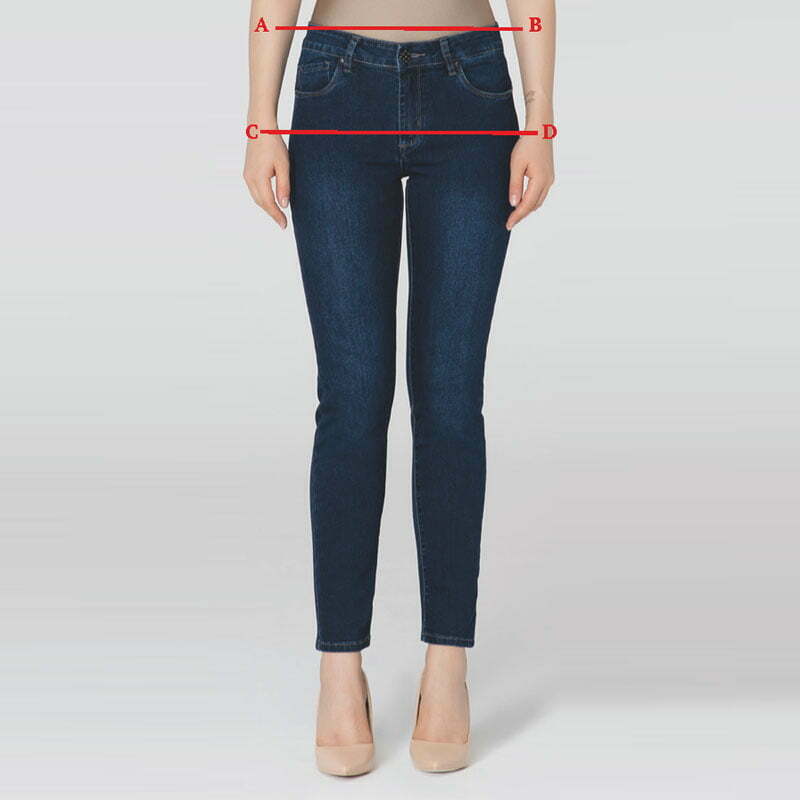 | | | | | |
| --- | --- | --- | --- | --- |
| Size | UK | US | EU | Japan |
| XS | 6 - 8 | 4 | 34 | 7 |
| S | 8 -10 | 6 | 36 | 9 |
| M | 10 - 12 | 8 | 38 | 11 |
| L | 12 - 14 | 10 | 40 | 13 |
| XL | 14 - 16 | 12 | 42 | 15 |
| XXL | 16 - 28 | 14 | 44 | 17 |
| | | | | |
| --- | --- | --- | --- | --- |
| Size | UK | US | EU | Japan |
| XS | 6 - 8 | 4 | 34 | 7 |
| S | 8 -10 | 6 | 36 | 9 |
| M | 10 - 12 | 8 | 38 | 11 |
| L | 12 - 14 | 10 | 40 | 13 |
| XL | 14 - 16 | 12 | 42 | 15 |
| XXL | 16 - 28 | 14 | 44 | 17 |