5-pocket palazzo jeans
La moda dei
jeans a palazzo 5 tasche
è prepotentemente tornata e
Chiara Dalba
la interpreta a proprio modo, proponendo un
jeans con carrè a punta
nel colore più classico possibile.
Un modello versatile e di tendenza, grazie anche al lavaggio classico, portabile sia di giorno che di sera e in ogni tipo di occasione. Un vero must have da avere sempre a propria disposizione.
La qualità Chiara Dalba si riconosce in tutti i dettagli di questo jeans adatto per ogni fisicità.
Il modello è disponibile dalla taglia 42 alla taglia 48 grazie a una linea morbida e a una vita regular.
Il morbido cotone con cui è realizzato il capo è perfetto per ogni stagione ed esigenza. Impossibile resistere.
Vestibilità e composizione del jeans a palazzo 5 tasche
La vestibilità del jeans a palazzo 5 tasche è ottima e perfetta per tutte le fisicità. Vita regular e gamba larga conferiscono il tipico aspetto a palazzo.
Disponibile nella variante colore jeans blu e nelle taglie dalla 40 alla 48.
La modella in foto è alta 180 cm e indossa una taglia 42.
Composizione: 94,2% Cotton 4,5% Polyester 1,3% Elastam.
How to take measurements:
AB - Waist
Measure your waist placing the tape around your navel.
CD - Hips
Measure your hips placing the tape around the widest point.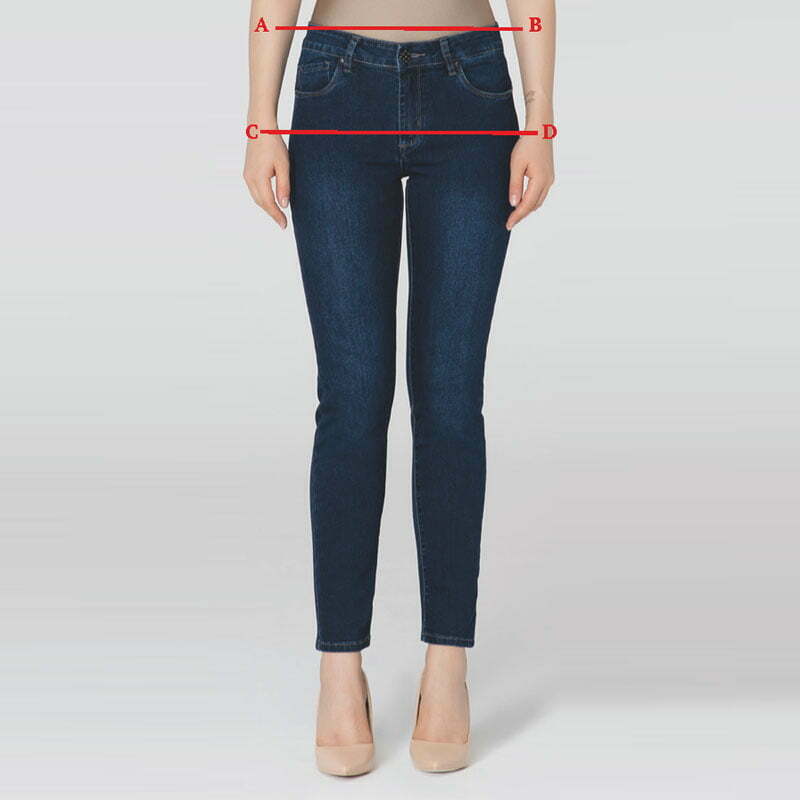 | | | | | |
| --- | --- | --- | --- | --- |
| Size | UK | US | EU | Japan |
| XS | 6 - 8 | 4 | 34 | 7 |
| S | 8 -10 | 6 | 36 | 9 |
| M | 10 - 12 | 8 | 38 | 11 |
| L | 12 - 14 | 10 | 40 | 13 |
| XL | 14 - 16 | 12 | 42 | 15 |
| XXL | 16 - 28 | 14 | 44 | 17 |
| | | | | |
| --- | --- | --- | --- | --- |
| Size | UK | US | EU | Japan |
| XS | 6 - 8 | 4 | 34 | 7 |
| S | 8 -10 | 6 | 36 | 9 |
| M | 10 - 12 | 8 | 38 | 11 |
| L | 12 - 14 | 10 | 40 | 13 |
| XL | 14 - 16 | 12 | 42 | 15 |
| XXL | 16 - 28 | 14 | 44 | 17 |